Past Events
Past EARN activities and events include seminars, symposia, conferences, exhibitions, collaborative research projects, and the European winter schools programme. Please find current events on our blog!
For past exhibitions and art projects with EARN members involvement please see Exhibitions.
For past conferences, symposia and workshops with EARN members involvement, please see Conferences.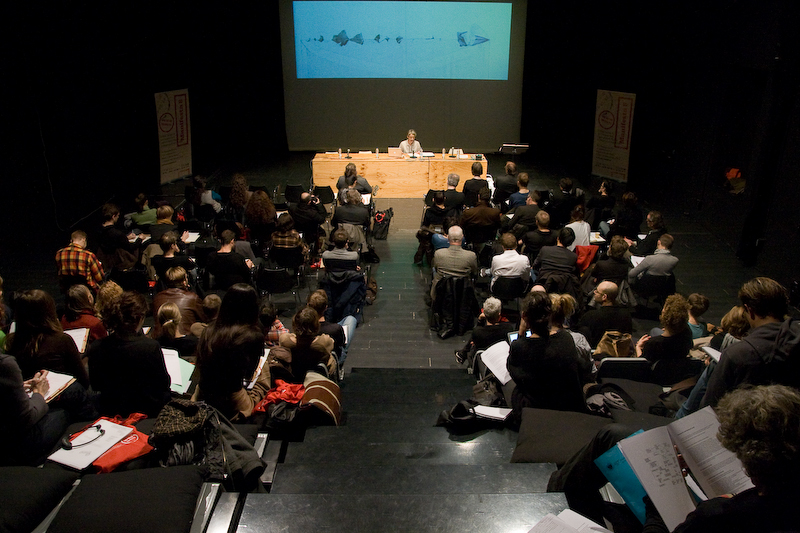 As The Academy Turns, EARN@Manifesta 8, Murcia, December, 2010
Here is a sampling of some EARN activities over the last decade or so:
THAT ART EXHIBITS – LUCA School of Arts, EARN Conference 2016, Brussels (Oct 13-14, 2016)
Against Delivery, Research Event, Slade Research Centre, London (Nov 12-13, 2015) See also here.
Thinking on Stage, GradCAM@DIT, Dublin, Ireland (May 2-3, 2014)
Radical Imagination, Conference, Valand, Göteborg (Nov 14-16, 2013)
"Not Now! Now!", Conference, Academy of Fine Arts, Vienna (Oct 17-18, 2013)
The Counter Order of Things, Finish Pavilion@Venice (Oct 25-26, 2013) See also here.
Doing Research SYMPOSIUM EARN@dOCUMENTA(13), Kassel (Sept 8, 2012) See also here.
"Art as a Thinking Process" Faculty of Arts and Design, Iuav, Symposium, Venice (June 5-6, 2011) See also here.
As The Academy Turns, Winter School @ Manifesta 8, InfoLab, & Network Meeting, Murcia (Dec 2-6, 2010) See also here.
Re : Public, Exhibition, Dublin (Feb 4-March 3, 2010),
Critique of Archival Reason, Exhibition (Feb 18- March 6, 2010),
Art Research: Publics and Purposes, Conference (Feb 15-19, 2010), Dublin
Epistemic Encounters, MaHKU Consortium, Expert Meeting, Utrecht (Dec 11, 2009)
Nameless Science, Conference, [12/12/2008], Exhibition [10/12/2008-31/01/2009], New York
A Certain MA-ness Conference [07+08/03/2008], Exhibition [08-30/03/2008], Amsterdam
Page last updated on 16/12/2021 at 07:57