Events
This page contains information about EARN activities and events including seminars, symposia, conferences, exhibitions, collaborative research projects and the European winter schools programme.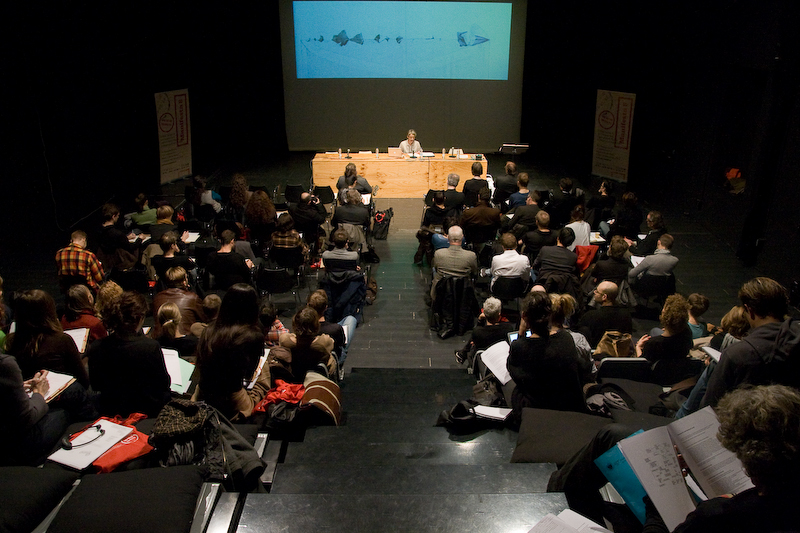 As The Academy Turns, EARN@Manifesta 8, Murcia, December, 2010
Upcoming Events
EARN will post its programme for 2011 in early Spring.
Previous Events
As The Academy Turns, Winter School @ Manifesta 8, InfoLab, & Network Meeting, Murcia [2-6/12/2010]
Tables of Thought, Exhibition, Conference, & Network Meeting, Helsinki [28-29/04/2010]
The Academy Strikes Back, Exhibitions, Conference, & Network Meeting, Brussels [4-5/06/2010]
Critique of Archival Reason, Exhibition, Dublin [18/2-6/3/2010]
Re : Public, Exhibition, Dublin [4/2-19/3/2010]
Art Research: Publics and Purposes, Conference, Dublin [15-19/02/2010]
Epistemic Encounters, MaHKU Consortium, Expert Meeting, Utrecht [11/12/2009]
Becoming Bologna, Conference, Venice [06+07/06/2009]
Public Seminar, Vienna [23/01/2009]
Nameless Science, Conference, New York [12/12/2008]
Nameless Science, Exhibition, New York [10/12/2008-31/01/2009]
State of Play Conference, Dublin [08+09/05/2008]
A Certain MA-ness Conference, Amsterdam [07+08/03/2008]
A Certain MA-ness Exhibition, Amsterdam [08-30/03/2008]
Network Meetings
Network Meetings entail participation by the majority of network partners.
Working Group meetings typically entail representatives from three or more of the partner institutions.
Network Meeting, Dublin [19/02/2010]
Working Group Meeting, Utrecht [12/12/2009]
Working Group Meeting, Dublin [12+13/11/2009]
Working Group Meeting, Gothenburg [9/10/2009]
Network Meeting, Venice [06+07/06/2009]
Network Meeting, Vienna [23/01/2009]
Working Group Meeting New York [12/12/2008]
Network Meeting, Dublin [09/05/2008]
Working Group Meeting, Amsterdam [07+08/03/2008]
Network Meeting, Slade UCL, London [12/10/2007]
Network Meeting, Dublin [08+09/02/2007]
Network Meeting Public Doctoral Presentations Malmo [16/09/2006]
Network Meeting Slade UCL London [04+05/11/2005]
Network Meeting Free University Brussels [10/09/2005]
Network Meeting HISK Antwerp [09/09/2005]
Network Meeting Kuva Helsinki [/2004]
Page last updated on 15/12/2016 at 15:13